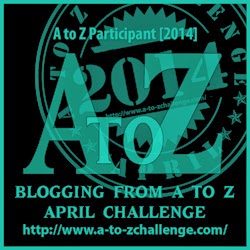 Hello beautiful people. Day 3 is here and so is my post. I am writing fiction on human emotions this season (incase you hopped on to my blog for the first time) and my third emotion with C is Cry. You think it's an every day emotion, happens every where…. yeah it's like a regular emotion but wait till the end and you will get a story.
Okay today's post is not as long as yesterdays. It's about 450 words. So read on. Read the rest of the posts of A to Z Challenge here.
A day at the Park
"Komal don't go too far… play here only"
"Okay ma", said little Komal as she ran on the soft green grass of the park .
Komal and her mother came to this park every evening, the only time when mother got some rest from the house hold works and Komal could run and play as much as she wanted.
Today mother was sitting on a bench and knitting a cardigan for her.
Komal liked the swings at the other end of the park, it was free today and she wanted to sit on it before any one did. But mother asked her to play nearby.
'Can she see me if I go there? May be not… I'll go there quickly and come back after sometime' she thought.
She ran towards the swing and finally sat on it. She was so happy that it was free, the park was not that crowded like other days.
"Baby what are you doing here? Your mother is looking for you everywhere, she has called you there at the gate at once…" said Billu the peanut-seller from whom they bought roasted pea-nuts often.
"She asked me to get you to her at once… come with me…"
Billu picked up Komal and walked towards the exit gate.
"Where are you taking me? Mother was sitting on the bench that side"
"No your mother has already hailed an auto and is waiting for you this side"
Billu gave her a pack of pea-nuts to keep her busy for the moment. When he came out of the park he walked towards the white car parked at the side.
"Where is mother?"
"Just behind the car"
Looking around Billu didn't see any suspecting eyes. He cleverly took Komal inside the car with dark tinted glasses, where his partner was waiting. They blindfolded little Komal and gaged her so that her wails could be curtailed.
The car stopped near a tattered house in the outskirts of the town. They carried a now tired and weary Komal inside the house.
"Sit over here, and don't make a single noise, if you try to run away I'll kill you, and I will kill your mother and father one by one", whispered Billu into her ears as he opened her blindfold and took out the plug of cloth from her mouth.
They left her locked in the cold dark room with her hands and feet bound, leaving her with a bottle of water and a packet of biscuit. Komal let out a cry but no one was there to listen to her plea. She didn't know what to do… she just wanted to be back home with her mother. She wished she had not gone to the swing in the park that day.
——————————————————————————————–
Visit A to Z and read awesome posts by bloggers.
I am also taking part in the challenge from my cook blog. Visit Twinkling Tina Cooks for a month full of Indulgent recipes.
—————————————————————————————————
Leave a comment below if you liked the flash fiction and if you want me to write more. Your comments mean a lot to me.