For those who don't know who Kevin O'Brien is – he is a cricket player of a not so known team called Ireland but today he did something for which the entire Irish community will be proud of. He is the man who almost single handedly got Ireland their first big victory in the group matches of World Cup 2011 but mind you not against any other newbie but defeated England! It's a huge feat Kevin and I congratulate you for your effort and contribution.
I am feeling so guilty that I didn't watch this match thinking it is only Ireland and England had played sensibly in their last match. It is only the last two overs that I caught while having my dinner. The little bottom corner of the TV flashing 321 for 7 and Ireland batting was jaw dropping and next when my eyes moved a little more I saw they just needed 6 runs from 9 balls which felt surreal. Even after the winning runs it took me time to digest Ireland had not only won a match but they scored 300 plus and won against England!
The next shocker came as the scorecard of Ireland batting was displayed. Opener out for a duck and almost every other person in 30s I was wondering how did they score 300 odd runs till I came across this huge triple digit of the 6th batsman! The more astonishing fact was his 113 valuable runs came from only 63 balls! Visuals of the ecstatic Irish team hugging each other were being flashed in the TV and I was still trying to figure out how did they manage to do it. It's only the presentation ceremony where I finally saw the hero of the day Kevin O'Brien. His pink hairstyle is as crazy as his bating style adding oodles of punk I guess.
I could watch little glimpses of this momentous century during the highlights and felt this man kept his cool in a situation when his country needed the most and helped his side like a soldier. I just hoped they would show a little more of the batting but Harsha Bhogle has to display his new found hairstyle and open his big mouth along with the three analysts with their bigger mouths. This little note is for the one sitting in between with weird colored turbans and his own dictionary of idioms/phrases – I neither like you opening your big mouth and the bizarre dictionary at the end of every match nor do I like you laughing baselessly in stand-up comedy shows. Nevertheless, today I was much more curious to see the 13 fours and 6 sixes so bared with these men for sometime. The wagon wheel looked quite nice for this wristy yet powerful player.
I didn't buy tickets for an India Ireland match being played in the city thinking it will be an uninteresting game as it's only Ireland. But I am getting a feeling that I should reconsider the decision.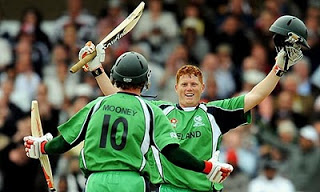 More than that, I am being a little apprehensive thinking about the days coming ahead of us. Ireland had played quite well against Bangladesh and lost by a thin margin of 27 runs. England has already had a rocky start with their almost lost match against Netherlands and today's loss against Ireland. [Clash of the 'lands' I guess Ireland, England, Netherlands/Holland!] From this summary I am getting a little jittery on where do we (India) stand?? We were almost on the verge of losing the match against England who is fighting to keep up to their reputation now, given the fact that they won the Ashes and now lost against Ireland. I hope everything goes well for us this Sunday. Hopefully our team specially tail enders, bowlers and fielders have watched the match and taken some cue from it. It feels funny how a 5th down batsman anchored the match today and how everyone from our team fell like bowling pins after Dhoni last day. I have to mention there was some good fielding from England which resulted into two superlative run outs.
I can only hope and pray that our team performs better and better in this chapter of World cup and accomplish the long awaited dream of a 1 billion Indians and of course my Hero's. [for those who don't know who my hero is, FYI, He is Sachin the great and if you are thinking why H is capital in Hero and He it is because I worship Him].