"Nature doesn't hurry, yet everything is accomplished" – Lao Tzu.
When nothing seems to be going right you have the open sky to look at and let your thoughts wander for some time. When you are buried deep down under stress you can stand near the window and take a deep breath of the fresh air, or take off on a weekend to somewhere green. We are humans and we tend to forget and overlook things easily. But let's not do that and rise above the obvious.
Here's a very apt #ThankfulThursdays prompt Week 12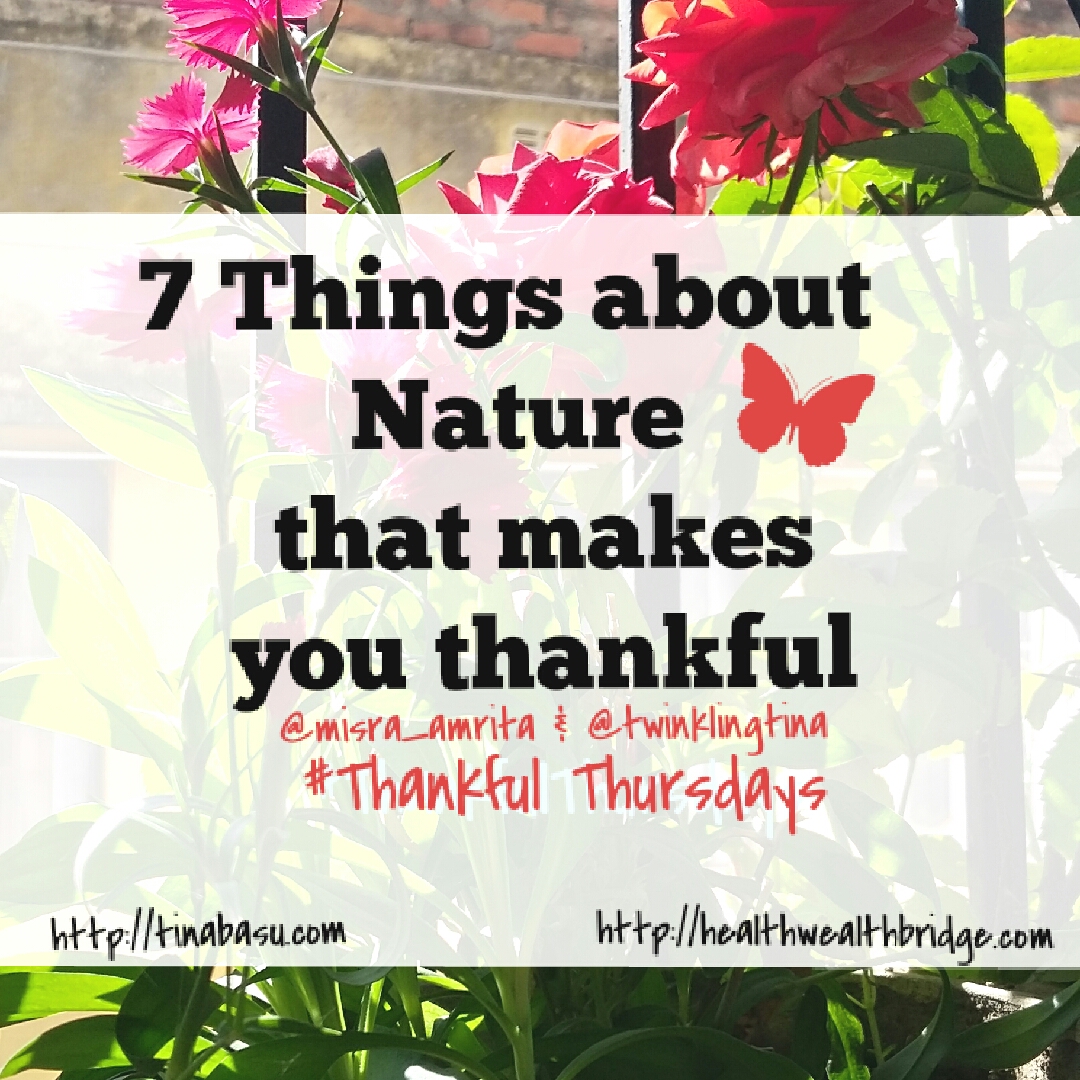 "Keep close to Nature's heart… and break clear away, once in a while, and climb a mountain or spend a week in the woods. Wash your spirit clean." John Muir
Nature is the treasure trove. It gives you everything and you ought to be thankful for it.
Anything natural is BEST for your Skin
Do you know how many chemicals we apply to ourselves in a day? The number is staggering. According to a study by Bionsen, a natural deodorant company, an average woman puts 515 different synthetic chemicals on her body. DAILY. (source) Chemicals are present from your morning toothpaste to the lipstick that you are wearing.
Sticking to natural products and making DIY scrubs, face packs is best for your skin.  I am in the process of healing my skin and hair. I am experimenting with natural cleansers and natural ways to keep myself moisturized. I can tell you one thing – skin is breaking out far lesser than what it used to be!
Secrets of nature that Heal your body
I swear by Aloe Vera. This one plant can heal your body in more ways than you know. It is not just great for your skin, the juice is extremely beneficial for a good gut health. I am not telling you that Ayurveda is. It even reduces symptoms of heart reflux and stabilizes the alkaline levels of the body.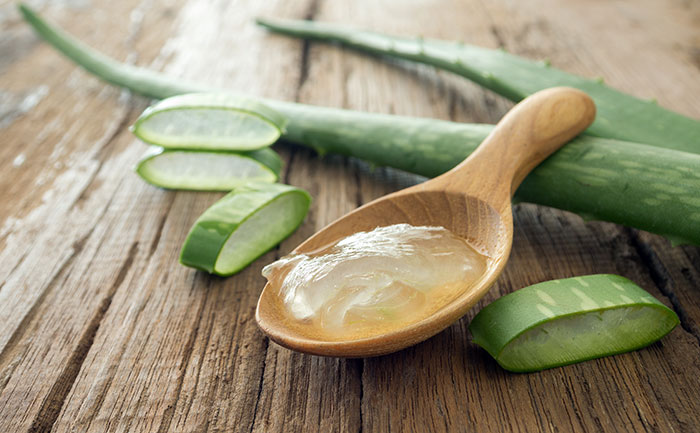 It is nature that gives you fruits and vegetables that are rich in anti-oxidants that help you fight diseases, even cancer. Similarly, can you just overlook the benefit of organic farming and organic food?
Natural Greenery is Therapeutic
Did you know what Phytoncide is? Phytoncide is a substance emitted by plants & trees are produced to help plants & trees protect themselves from harmful insects and germs. People who spend more time in greenery – in forests, parks, where there's plenty of trees benefit from this phytoncide. In a series of studies, it was found that greenery helps in boosting immunity in humans.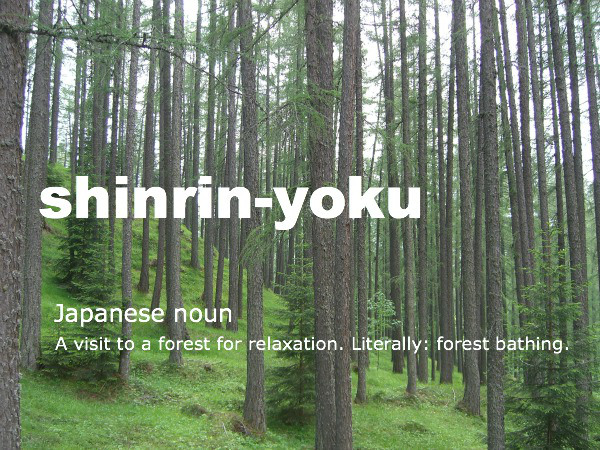 There's also a saying that watching greens keeps your eyes healthy – how far that is true I have no idea, though!
To Hell with Air Purifiers
There's pollution, there's smog, there's toxic air – it's not a new story. This has also given rise to this industry of air purifiers! Can't we plant more trees and breathe in fresh air? I live in an apartment complex which has more than 100 huge trees. The realtor thankfully didn't chop off all the trees that were there originally in the area. The main road near the building is dusty, filled with pollution – very difficult to breathe and not cough. But once I am inside our complex the breeze is all natural air – a completely opposite situation. Yes, trees help – they are friends.
How can you not like fresh air?
These days people spend 80% of their day in air-conditioned offices where the same air is getting circulated. No fresh air. Similar is the situation if the air conditioning in your house is on permanently. How can you not like fresh air? Open the window, stand on your balcony or terrace and enjoy the fresh air.
Plant indoor plants or have potted plants on your balcony to get fresh air, fresh oxygen.
Gardening is therapeutic
I enjoy gardening because I give life to things. It takes care of emotional health. When you see flowers blooming, or a little cherry tomato cropping up you are only filled with joy because it's a new life and you have been a part of its production. Nature helps you heal your mind and heart as well.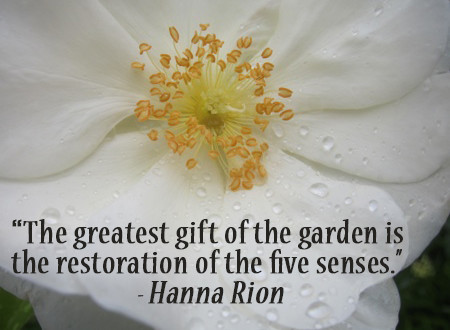 Sunbathing can create wonders
No, I am not talking about lying on the beach under the hot sun for hours altogether for that perfectly tanned look. (I will become a fried chocolate, though!) The early morning sun rays are extremely beneficial for human body. When it hits the skin it creates Vitamin D which is extremely good. My son's pediatrician told me to do that every day for 10-20 minutes when he was born.
It's also good for elderly people with joint pains. There's a science behind suryanamaskar right? (I do that these days BTW)
Conclusion
Be close to nature – make a habit of it and you can only reap benefits. Nature is your best friend. Be thankful towards nature and respect natural resources – they don't want anything in return.
Last week's Winner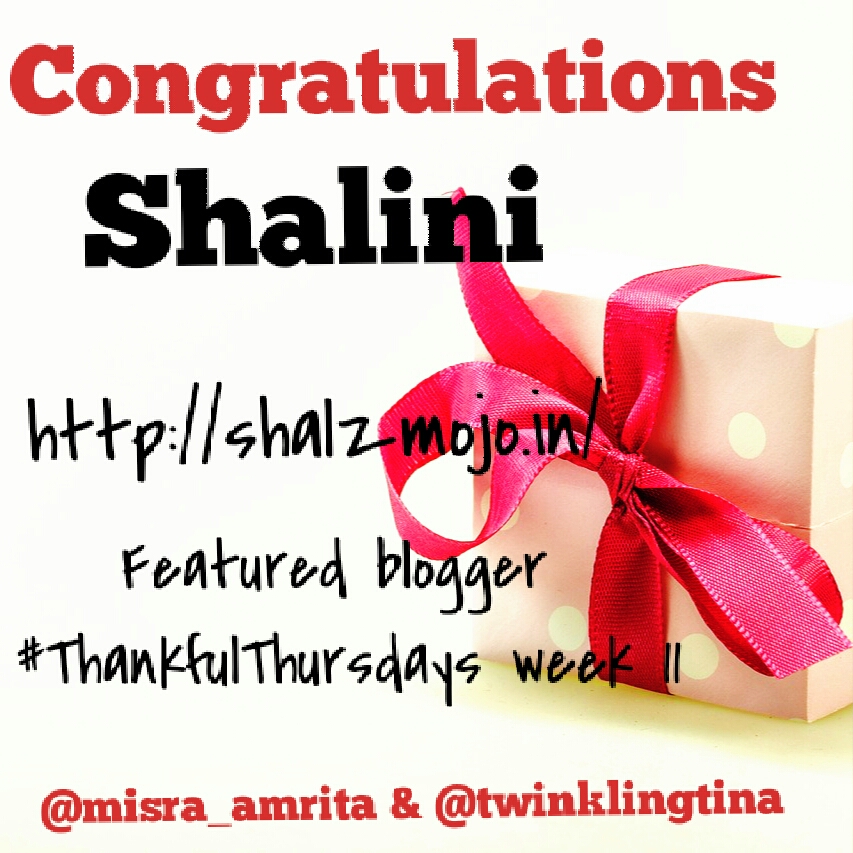 Both Amrita and I thought Shalini (who I call Shalzy) had THE post of the week. Read her winning post here.
In Her Words
I am in love with photography, travel, and baking. My writing journey was initiated with my letter writing hobby as a child and has metamorphosed into serious blogging as an adult. I blog at shalzmojo.in and my blog, in a nutshell, is about Me. I write about my opinions & views on food, photography, travel, mindfulness, baking, books, movies and recently penned a few fictional tales too.
 I indulge with reading fantasy fiction, day dreaming and sipping good wine.
  FB: https://www.facebook.com/Shalzmojo/
TWITTER:  https://twitter.com/Shalz75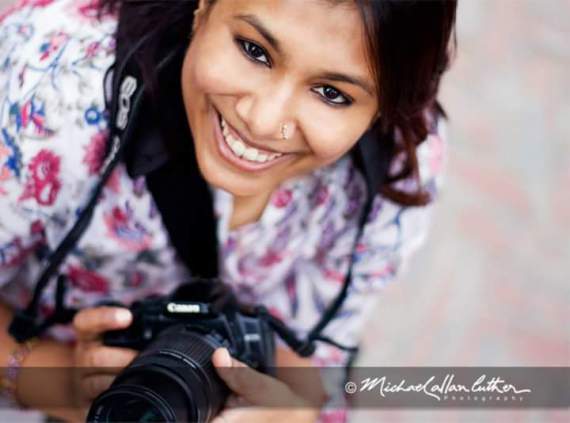 How to Participate in #ThankfulThursdays?
Follow @twinklingtina and @misra_amrita on Twitter
Prompts will be announced every Wed 20:00 hrs IST
Read, comment, share on host and co-hosts posts and at least two more posts linked in the party Pro Tip – Networking and commenting is good for your blog's health and ranks.
Use #ThankfulThursdays in your post and share in social media using the same hashtag.
Every week we will have one featured blogger who is the best reflection of this community spirit
Grab the Badge