Women are wonderful creatures , on one hand you have a mother who carries a child in her womb, gives birth, nurtures kids, you have a sister who loves you yet fights with you, you have friends who love you yet can snap at you if you are wrong and then you have the other kind of women who can say nasty stuffs behind your back, who will not leave any stone unturned to pull you down! How ridiculous but how true! God save you if you have a female boss of the second kind!
Its Women's Day on March 8th and at #ThankfulThursdays we are celebrating Women this entire month. So here's an apt prompt for the women of the first kind – the women who have helped you in your life.
#ThankfulThursdays Week 18 Prompt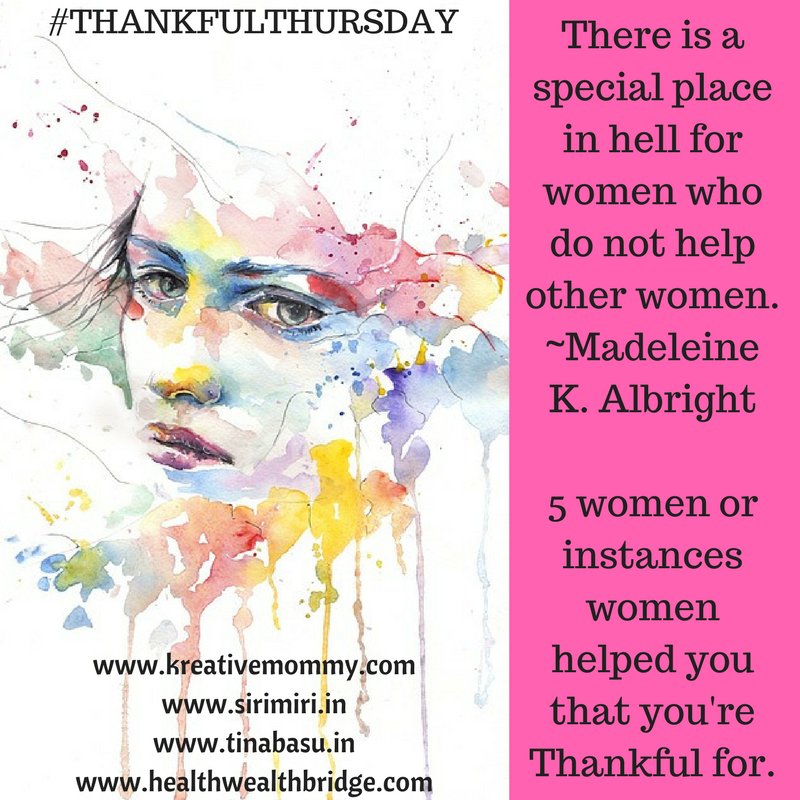 My Mom
She has been strict, she has been a friend, she is now like a kid! I get my sense of style from her. She has been super hot and beautiful in her times ( I am nowhere close to her in that department!) She made sure I was always well dressed and her sense of fashion used to be always ahead of times! So I was dressed in paddle pushers and skinny three quarters during my pre-teens and they were still not in fashion or easily available in market!
She calls and facetimes me every day, several times to enquire if I am okay. I sometimes used to find that weird but now when I have Mr. Bluey doing all his antics I understand why my mum has to enquire about me all the time! Okay she enquires about Bluey a little more now!
My cousin sister
I have always been in an awe about one of my cousin sister since childhood. She was like my role model. I was a fan of her drawings, her handwriting, the way she used to carry herself – almost everything! My handwriting as a kid was horrendous. And then I discovered the picture perfect  handwriting of this sister of mine. She didn't write in this cursive writing script but it was BEAUTIFUL. So beautiful that I made it a point to make my handwriting as good as hers. Changing your handwriting is no joke, but I did it – not as picture perfect as hers though! She has been there for me in my formative years as a great guide and friend. Helping with my homeworks, dreaded maths, biology projects (counselling on boys included!)
My Guruji
I don't know if you know I have been a Kathak dancer almost all my childhood till I joined my graduation. My dance guruji Prof. Amita Dutta is not just a danseuse and a highly acclaimed performer but is also a great guide for life. Because I have spent so much time with her that I have learnt a lot more about life from her than anyone else. We use to tour across India for dance recitals and at an early age I learnt how to conduct myself in public. The free spirit that I have in me, the expressions that I can carry are all from her. I can't thank her enough.
My first Room Mate
When I came down to Bangalore in 2007 I started living in a paying guest accommodation in a shared room. This was the first time in my life that I was sharing a room and a bathroom with anyone. Being the single child has its own perks, isn't it? I have had heard some gazzilion stories of roommate fights, girls doing this and that, adjustment problem bla bla. But I can't thank my stars enough that I found Sakshi as my first roommate. She is adorable, accommodating, a guide when you need, a good listener when you need, your shopping and movie partner – almost everything that you need in a good roommate. I absolutely love her and our sessions of endless late night talks in the dark! We are still in touch and I simply love her.
My Gurl Gang
They are a recurring topic in most of my posts! But that's how it is. We have been together so long that it doesn't matter one is in Muscat, one in Kerala, and one in Hyderabad! We have helped each other, been there for each other, known secrets and made loads and loads of memories. Love you girls.
Say HI to your #ThankfulThursdays team
How to Participate in #ThankfulThursdays?
Follow @twinklingtina  @misra_amrita @Mayuri6 and @Deepagandhi1 on Twitter
Prompts will be announced every Wed 20:00 hrs IST
Read, comment, share on host and co-hosts posts and at least two more posts linked in the party Pro Tip – Networking and commenting is good for your blog's health and ranks.
Use #ThankfulThursdays in your post and share in social media using the same hashtag.
Every week we will have one featured blogger who is the best reflection of this community spirit
GRAB THE BADGE