I take on the baton of Blog Love from Pooja the Wanderer Wordweaver Woman and spreading loads of love on this Valentine's Day. Read Why I love my blogs?
I have been blogging since January 2011. That makes it 6 years. Have I been in love with my blogs ever since? Not really, I have been on and off and lazy like a sloth. But now I am at a stage that I am in love with my blogs Tina Basu and Twinkling Tina Cooks. I don't think I can stay very long without blogging. I get ideas of blog posts at weird times. Most of these ideas flood my mind when I am trying to sleep or in the shower!
So why exactly I love my blogs – they are my blogs, hell yeah I will love them. They are what I am – free willed, fun filled, vibrant, logical and everything else.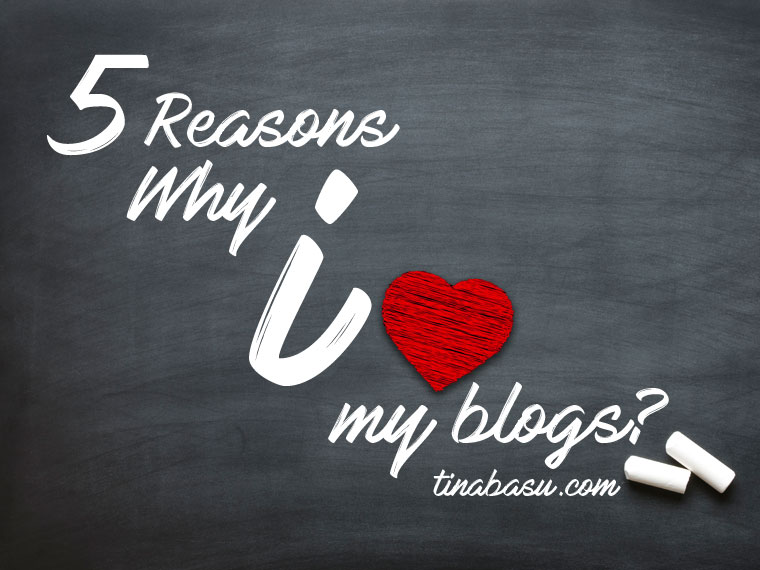 My Blogs are My babies
Yes, I treat them like my babies. I want to know every bit about the blogs, that's exactly why I wanted to do the change over from Blogger to self-hosted WordPress myself and learn what happens at back end. Like how I am hands on with my son I am equally on top of whatever happens in my blogs. I have read and read and read the gargantuan amount of resources available on the internet to make my blog better and healthy – I am still learning and still trying to make them better.
I like to make my blogs look pretty
As a mom, I make it a point, my son is always well dressed – even when he's going to sleep. Though the fashion for baby boys is pathetic! Similarly I like to make my blogs look beautiful and pretty. I hate it when I go to blogs and they look all cluttered with jarring colors, no theme, unorganized posts – if they don't look pretty to my eyes, I can't stay on the blog for more than few minutes.
I am preparing more Blog Beautiful Tutorials so that you all can make your blog look pretty. My blogs are my babies – they ought to look pretty.
I like how my baby does in Exams!
Blogging isn't an exam –of sorts. But life is a competition. So is blogging. There is a colossal amount of bloggers in your niche and you have to be in competition and make space for yourself. I like to keep a tab of my ranks Alexa, Indi Rank, Moz Rank, Domain authority. There are tons of ways to check the ranks – I don't delve in all of that. But at least I want to maintain a good Indi Rank and Alexa for the time being.
My blogs are my Identity
Yes, they define me – online. Right now I am living an online life. I spend a considerable amount of time online – much to the annoyance of the men in the house – yes my two and a half feet old man also doesn't like me with the laptop – he even throws it down – thank God the netbook has not given up on me with all the torture! I want to be the first one on Google every time someone searches Tina Basu, as a matter of fact I am the first one in google text search and image search! But my goal is to be in the top ten when someone searches as Top Lifestyle Blogger or Top Food Blogger – that is a long journey – but I will reach that stage – someday. Amen to that!
My blogs are my Sources of Income
After having quit my job recently, I am doing freelance design works – some of my designs recently got published in an interior magazine and the client seems happy – okay I am not boasting, just sharing. Apart from the graphic design work that I do I am doing more freelance writing and people get to know me through my blogs. So they are my source of income – enough to pay all my bills (extravagant shopping and holidays excluded!)
But I have loads of plans with my blogs. I want to integrate design and writing. I want the blogs to look so pretty and functional that people will want to come over and not just read passively. I want to open an online shop on the site. They are all in concept stage – let me not write more on that right now.
So isn't blogging just great? Yeah exactly – why wouldn't I love my blogs when they love me back and reward me? Do you love your blog as much I do? Let me know in the comments.
I pass on the baton of Blog Love to Geethica from Spectrum of Life