Quite commonly, we as Indians tend to equate retirement as the time where one's existence comes at a standstill. It has always been envisaged as that slow period in one's course of life, where the retired individual is slowly left bereft of any goal or mission, relying only on others for support and care. The only activity in life at that point in time for the retired being – staying back at home to look after grandchildren or visiting religious places to surrender to the
While this picture may have been what the tradition has always looked like, the changing times bring with them a renewed sense of hope and vitality along with retirement. Retirement now is slowly changing to be that phase of life, which is ideal for breaking barriers, fulfilling long lost dreams and appreciating all the beauty that life has to offer.
Here are two remarkable Indian couples that have broken down the age barrier after retirement.
Here's what they've been doing to inspire so many.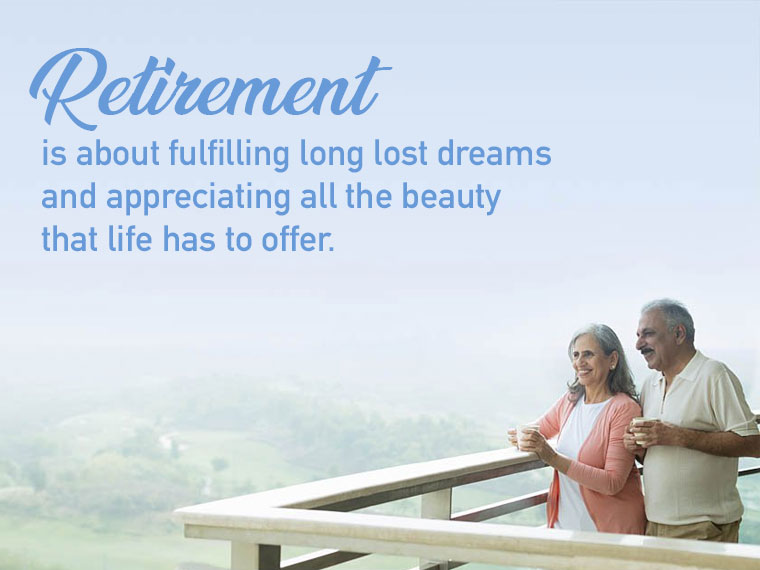 Louis & Janet D'Souza: Who Embarked on A Trip They Call A 'Lifetime Journey'
This retired couple desired to see the world and gave life to their dream of travelling the world post-retirement – except that they did it differently and even beautifully, with a greater cause attached to their travel.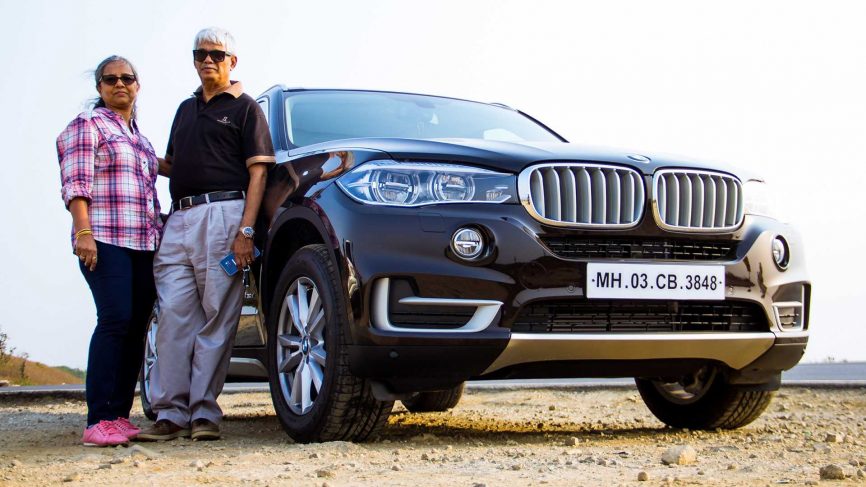 Image Source – The Hindu
Being lovers of road trips, travel and philanthropy, Louis (61) and Janet (55) set out on a trip which they named as a "Lifetime Journey" in 2016. Together, they drove across 52 countries over a period of 8 months. As a part of their charity goals, they made it a personal policy to donate Rs 10 for each kilometre that they drove. In addition to the Rs 5.5 lakhs that they contributed together, the duo also managed to raise about Rs 6 lakhs for White Doves & Muskaan Sharing Smiles.
They confidently rode through their age barrier with such tedious travelling in different climatic conditions. They managed to do so as simply as they tackled the language barrier in non-English speaking countries with the help of Google Translate and their undying spirit. In every sense of the word, they light a ray of hope, with retirement being a new beginning.
Dilip & Pooja Chauhan's Solo Bike Trip with A Mission to Appreciate Life
This couple is another phenomenal one that has been raising the bar higher when it comes to celebrating life. Dilip (61) retired from his job as a manager of State Bank of India in Indore and almost immediately set riding across the country with his wife Pooja (57), being the pillion rider on his Royal Enfield.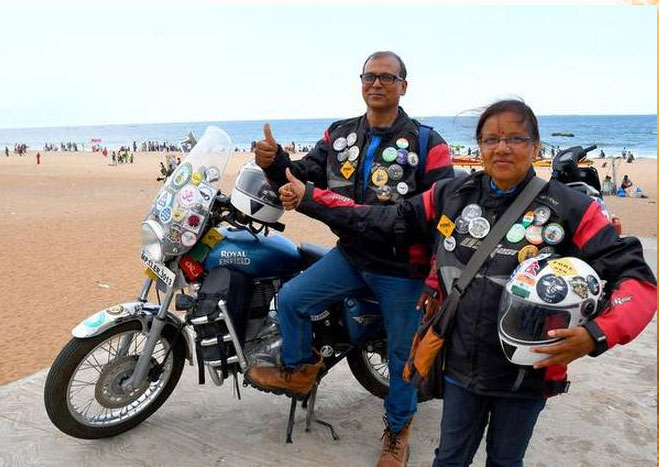 Image Source – The Hindu
Their journey was not based on impulse, but careful planning and preparation, which they engaged in for a good amount of time earlier. Both individuals adapted their bodies to be able to handle such travelling stress by taking long walks and jogging, both in the mornings and evenings. They practised going on long drives, placing extra weight on the vehicle and were careful about following proper food habits in order to raise their fitness levels.
With all of that in place, this senior couple managed to traverse 5500 kms in only a short period of 5 months. Their journey began with the Mahakaleshwar Temple in Ujjain, and from there they travelled through Ajmer, Bikaner, Delhi, Chandigarh all the way up to Dalhousie, Srinagar, Leh and Ladakh. While they travelled, they celebrated festivals en route their journey and enjoyed the local flavours of different places.
In the middle of their journey, they did get an encounter with a jerk, as Dilip injured himself with a fracture. However, this setback didn't dampen their spirits, and he recovered from his medical condition. With all the positivity intact, along with their zeal, they took it upon them to complete the remaining mission.
Such strong vigour and commitment to make one's wishes come true is nothing short of inspiring. When the heart truly wants something, the universe always supports. All that's needed is hope and belief, for many a time, age is just another number.
Was Breaking Age Barrier an Impulsive Decision?
Another point worth considering is that these couples did not make any impulse decisions. Their decision to travel needed finance and the couples were financially sound to embark on their mission. Similarly, if you too have your retirement dreams, ensure that you are financially secured to fulfil them in the near future. This may require you to prepare from now, while you are working, and the best way is to start making investments. For that purpose, it is necessary to invest in a good retirement policy.
Retirement planning through investment in retirement policy will provide the financial security once your regular income stops post-retirement. Moreover, it's vital to do extensive research for choosing the right retirement policy to make ends meet and enjoy your golden years just the way you like it.