"Life itself is a teacher, and you are in a constant state of learning" – Bruce Lee.
Life is something to be thankful of, isn't it? Given the situation of the world today sometimes I think I should be thankful I was allowed to get born or be thankful my country is not getting bombed and I'm not in the constant fear of losing my life from an air-strike!
Life is to be cherished in whatever way you can.
Let's celebrate life and give you our #ThankfulThursdays prompt for the week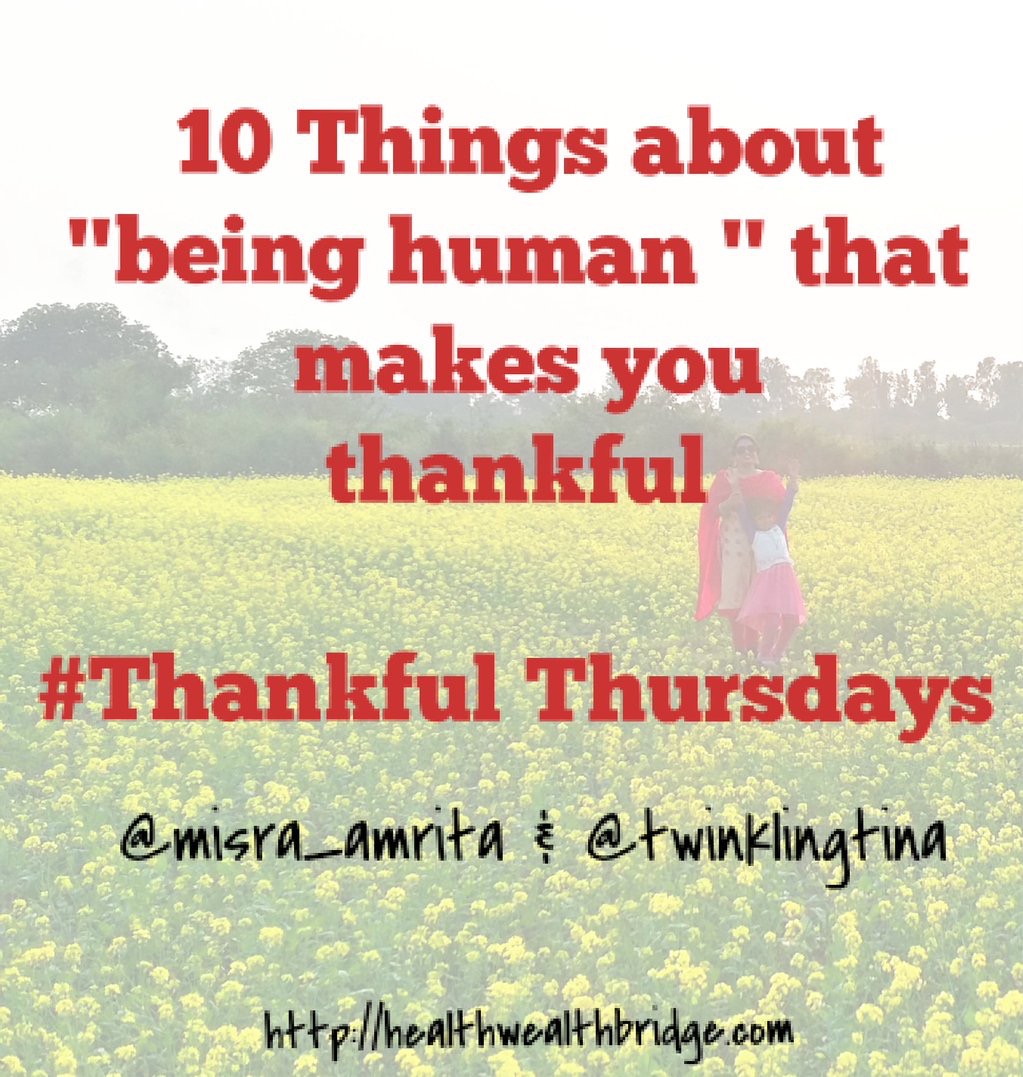 The journey from being an ape to human has been long. It's equally a long journey from being homo sapiens to being human!
There's so much out there that shape you up to be a human. Today at 31 I am a little wiser to introspect and write about life. So what actually makes us human beings? Two legs? Two eyes? Larger brains than most animals? A heart? The intellect? What exactly? Actually there isn't a single point. Do people remember you for the job you did or how much money you had in your account? Probably you will be remembered more for your humane side.
So what  are the 10 things about being human that makes you thankful?
1.Love
A soul without love – love for family, love for friends, love for people or animals – is as cold as ice. How does one survive without love? Love, not necessarily for the opposite sex, is essential – love what you do, love yourself.
"Love recognizes no barriers, Love jumps hurdles, leaps fences, penetrates walls to arrive at its destination – Full of Hope" – Maya Angelou
2. Courage
If humans didn't have courage they wouldn't have evolved into humans, in the first place. Without courage you can't create anything. Without courage I won't be where I am today,
"Courage is the most important of all the virtues, because without courage you can't practice any other virtue consistently. You can practice any virtue erratically, but nothing consistently without courage." ~ Maya Angelou
3. Compassion
I practice this from the heart. It's our sense of compassion that makes us human. We'll all dissolve into the soil one day, why not have compassion when you are alive and still have the power to show compassion towards others?
"If you want others to be happy, practice compassion.If you want to be happy, practice compassion." – Dalai Lama
4. Faith
Having faith in the super power is a choice for many. But having faith in yourself, in your abilities is your true power. I have promised myself I'll never lose faith in myself, nor will i let anyone take it away from me.
"Your faith in yourself is all you will ever have.Don't let anyone take it away from you, ever." – Holly Marie Combs
5. Imagination
We won't be where we are if humans missed this virtue. Neither could we have the computer nor the internet. If it was not imagination, there won't be my series of fictions or the design works that I do.
"The power of imagination created the illusion that my vision went much farther than the naked eye could actually see." – Nelson Mandela
6. Gratitude
The attitude of gratitude is the best attitude to have in life. I live in gratitude. It is a good habit to have.
"Gratitude can transform common days into thanksgiving,turn routine jobs into joy, and change ordinary opportunities into blessings" – William Arthur Ward
7. Responsibility
Accept responsibility for your actions. Be accountable for your results. I learnt that very early while doing several projects and internships. I am never afraid or shy to take responsibility of my actions. And if I do a mistake I take ownership of that. It's only through mistakes that we learn in life.
"You cannot escape the responsibility of tomorrow by evading it today" – Abraham Lincoln.
8. Honesty and Integrity
Honesty is holier – everyone knows that – but to me the most important thing is to be honest to myself. The day I start lying to myself, I'll lose my self esteem.
"In looking for people to hire, you look for three qualities: integrity, intelligence, and energy. And if they don't have the first, the other two will kill you."—Warren Buffet
9. Being Creative
There are two ways of doing something – the way you know, or doing something you dont know in a way no one knows! It's not just my profession which calls for being creative in paper and thought but it's also a state of mind for  me.
"Creativity is just connecting things. … Creative people … [are] able to connect experiences they've had and synthesize new things."—Steve Jobs
10. Urge to Learn
The day one thinks 'I know everything', is the day you will cease to exist. I am constantly in the learning mode. I learn from everyone around even from my 1 year old – how not to sit even for a minute!
"I have no special talents. I am only passionately curious."—Albert Einstein
So what do you think are your reasons to be thankful for?
Week 9 Winner
#ThankfulThrsday Week 9 winner is Manisha Garg from Zara Hatke Blog. Congratulations Manisha. 
Read her winning post here
So if you are practicing Thankfulness then join the bloghop #ThankfulThursdays with Tina and Amrita every Thursday.
How to Participate in #ThankfulThursdays?
Follow @twinklingtina and @misra_amrita on Twitter
Prompts will be announced every Wed 20:00 hrs IST
Read, comment, share on host and co-hosts posts and at least two more posts linked in the party Pro Tip – Networking and commenting is good for your blog's health and ranks.
Use #ThankfulThursdays in your post and share in social media using the same hashtag.
Every week we will have one featured blogger who is the best reflection of this community spirit
Grab the Badge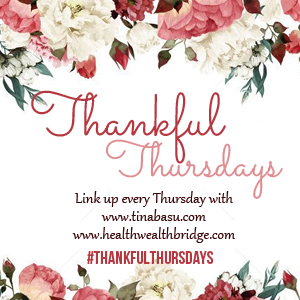 So wait no more. Be Thankful, Write a Post, Link Up Here. We'll visit everyone