Hello hello, Happy New Year people. May this year be better than the previous and you rise and shine more than you have expected. I am finally back after a long vacation at my hometown. In case you have forgotten completely about me I am that twinkling blogger who writes a lot of stuff and hosts some link parties. Amrita has been telling me people are wondering why I am AWOL – I love this abbreviation now after she told me – Absence Without Official Leave! Is it okay to vanish from the scene sometimes? I guess it's fine sometimes! AM (that's what I call her) saved my back because she posted all the #ThankfulThursday posts while I was holidaying (visiting restaurants mostly). AM was on a vacation too for a while but still she managed all the posts – and I was a lazy sloth!
No let me re-frame that – I was being un-social on social media and socializing face to face, for a change! Yeah this way it sounds better I guess.
Okay enough of it.
Here's #ThankfulThursdays Week 9 prompt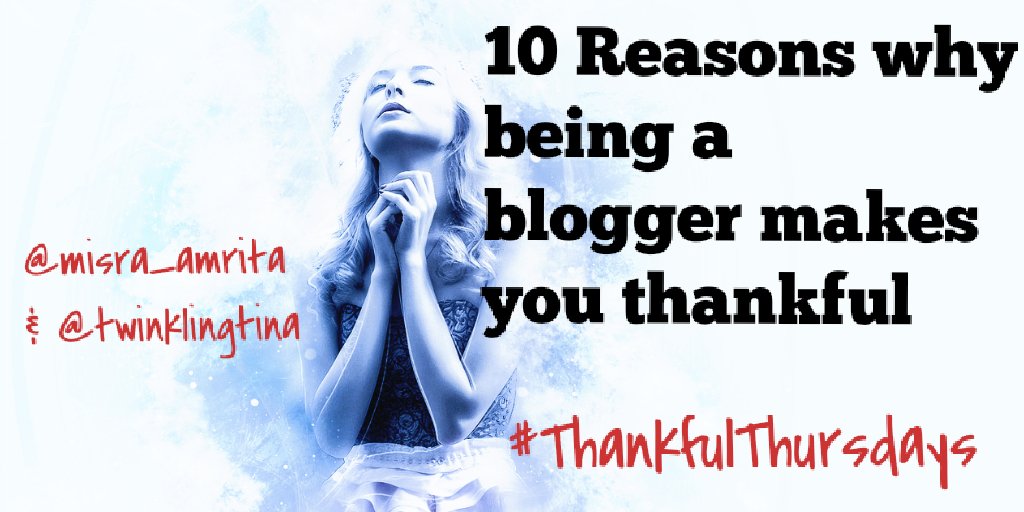 This is such an apt prompt actually for everyone who enjoys blogging – or for the ones – like me- who has taken up blogging seriously and full time! I have told you this earlier that I have been blogging in different blogs since college – so that makes it almost 10 years now (that's a lot of time actually) but I am doing some serious blogging since a year I guess. But I have always loved what I have done. There are tons of reasons why I am happy that I was introduced to the world of blogging.
For the Love of Writing
While I was in school I loved writing – creative writing, essay writing, poetry almost everything. I was a regular contributor at the school magazine, I had written for the Rotary club magazines and some more. But then while I was doing my graduation I almost didn't write anything. [You know where you priorities lie when you are in a college for the first time!!]. It was weird that I had stopped writing. While doing my post grads I thought let's make a blog and that first blog was an online diary of sorts and sometimes I used to write poetry.
Then in 2011 I launched The Sunny Side of Life – my writing blog on Blogger, with the intention to write more on social topics, on travel, food, culture – almost everything under the sun that I liked doing!
For the Love of being Published
I was writing fiction regularly at The Sunny Side of Life – which has been renamed and revamped to this current version. All those short fictions, micro fictions and poetry led me to become a published author! How freaking nice is that? I went on to write a short story on social drama for the Blank Space Anthology, a romance fiction for A Little Chorus of love and the Sci-Fi – The Awakening for Six Degrees which I co-authored with my team.
For the Love of Reading
Not just reading books, I enjoy reading various blogs and sites. I love reading food stories, Lifestyle blogs, beauty blogs, life hacks, social and political satire – if I wasn't a blogger myself I would have probably not read as many blogs I read now.
For the Love of Socializing
These days we socialize differently – you can have 500 followers on twitter but may not have 5 close friends in your life. I take this Social Media Socializing very differently – I like to meet and know people, I like observing people. I like talking. I am forever present on FB and twitter chats. If not for blogging I would have been a Twitter user with no interaction with anyone!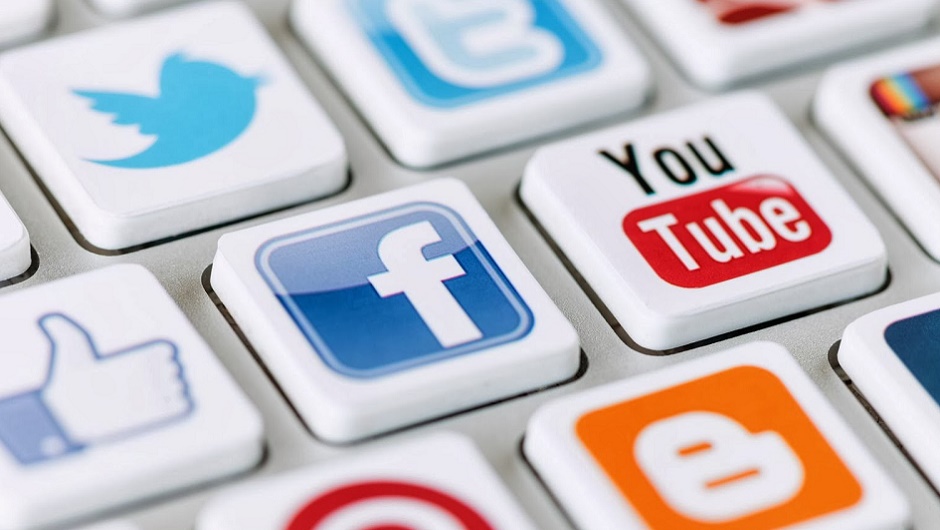 For the Love for Friends
I have made friends – like real good friends because we started writing and interacting together. The Game of Blogs introduced me to group blogging which I guess was a fab idea. I made great friends there. And have found great friends in my girl gang too. Love to all.
For the Love of Working
Blogging for me recreational – doing freelance writing and working with brands is WORK. When I decided to quit my 7 year long career I was sure of one – I can't become a person who doesn't work. Blogging is serious business for me and I like that.
For the Love of WFH
I am a mom and I don't go to an office – does that make me a SAHM? When you come across these mom blogs and mom groups these two abbreviations SAHM and WM are the most common ones. I cannot be someone who is a Stay At Home Mom looking just after the baby or doing household chores! Not me at all. I love the fact that I can Work From Home, write posts, design stuffs and get things credited in my account!
I write mostly at nights after Bluey has slept – peace for him, peace for me.
For the Love of Interacting
I used to visit these Bloggers Meets often. I loved the interaction between bloggers. You find all sorts of bloggers in these meets – the star bloggers, the wannabe bloggers, the serious bloggers, the bloggers like – you-are-too-small-for-me bloggers – it's nice to see the dynamics of bloggers.
For the love of Knowledge
Some people like sharing the knowledge and some like hiding or guarding theirs. I am the old school one in this regard – unless I am sharing (whatever I know) I might even know if things have moved on from there. What is the harm in sharing knowledge (unless you know how to make a Nuke!)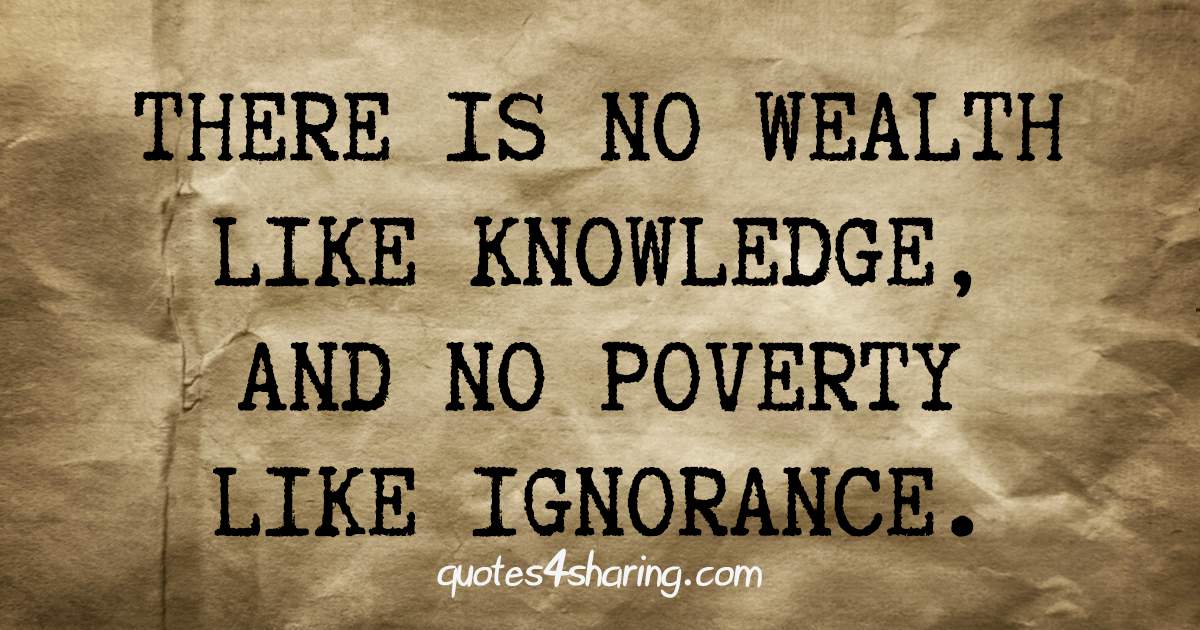 Finally For Being the Wise Me
Life and experiences have made me wiser than what I was. This is a learning process. All of the points mentioned above have contributed in some way or the other in making the person that I am now. If I can boast of something – like a wise thing I do – I can keep my cool in many adverse situation. That my friend is a life skill too!
I am not writing on the featured blogger section for this post because frankly, I have not read any posts in the last few weeks. But I am going to behave and get back into my blogging shoes this year.
So if you are practicing Thankfulness then join the bloghop #ThankfulThursdays with Tina and Amrita every Thursday.
How to Participate in #ThankfulThursdays?
Follow @twinklingtina and @misra_amrita on Twitter
Prompts will be announced every Wed 20:00 hrs IST
Read, comment, share on host and co-hosts posts and at least two more posts linked in the party Pro Tip – Networking and commenting is good for your blog's health and ranks.
Use #ThankfulThursdays in your post and share in social media using the same hashtag.
Every week we will have one featured blogger who is the best reflection of this community spirit
Grab the Badge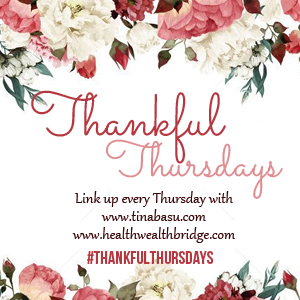 So wait no more. Be Thankful, Write a Post, Link Up Here. We'll visit everyone